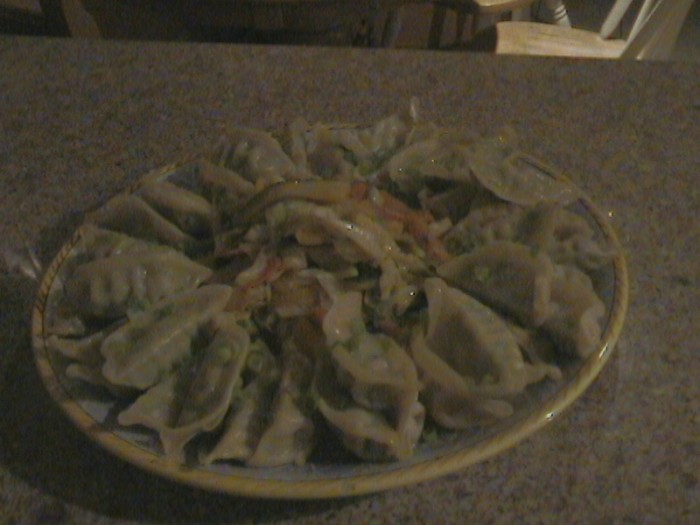 These potstickers are a real crowd pleaser. It takes a bit of work but they are well worth it. The pork could be substituted with shrimp, chicken, or even firm tofu.
Ingredients
1/2 cup finely chopped Napa cabbage
1/4 cup finely chopped green onion
1/4 cup chopped water chestnuts
1 pound ground pork
2 teaspoon dark soy sauce
2 teaspoons rice wine vinegar
1 teaspoon Asian sesame oil
Dash white pepper
1 package wonton or gyoza wrappers (about 48 wrappers)
1 tablespoon cornstarch mixed with 2 tablespoons water, or 1 lightly beaten egg white
1 cup water, or as needed
Preparation
Combine the first 8 ingredients in a large bowl, using your fingers to mix everything together.
Fill each wrapper with a heaping teaspoon of the pork filling. Add the filling in the middle of the potsticker wrapper, using your finger to spread it out toward the sides. Be sure not to overfill or to spread the filling too close to the edge of the wrapper. Moisten the edges of the wrapper with the egg white or mixture of water and cornstarch (this makes it easier to seal). Gently lift the edges of the moistened wrapper over the filling. Crimp the edges of the wrapper and pinch together to seal. Cover the remaining wrappers with a damp cloth to keep them from drying out while filling and folding the dumplings. Heat a wok or nonstick skillet on medium-high heat and add 1 tablespoon oil. Add 10 – 12 potstickers, and cook for 2 to 3 minutes, until the bottom is browned. Add 1/3 cup water, cover, and steam the dumplings until the liquid is absorbed (about 5 minutes). Remove and cook the remainder of the dumplings.
Serving
Serve alone, with Dumpling Dipping Sauce, hot chili oil, or with soy sauce combined with freshly chopped ginger or a few drops of Asian sesame oil. I like to put them on a large platter, family style with stir-fried veggies in the middle and potstickers all around.
<>