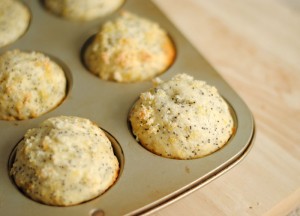 <>
Lemon poppyseed muffins are a perfect treat for breakfast or as part of a weekend brunch. Sweet with a slight crunch, they satisfy a multitude of cravings. This recipe makes one dozen muffins.
Ingredients
2 large lemons, or 3 smaller ones
1-1/4 cups granulated sugar
3 cups all-purpose flour
3 tsp baking powder
1 tsp baking soda
dash of salt
3 tbsp poppy seeds
1 egg
1-1/4 cups milk
1/4 cup melted butter
Preparation and Baking
Preheat oven to 375F (190C).
Grease 12 muffin cups or line with paper cups (do not line if using the grill!).
Finely grate peel from lemons, and juice them too.
Mix half of the peel with 2 tablespoons (30 mL) sugar and set aside to sprinkle over muffins. Measure out 1/2 cup (125 mL) juice and stir in the remaining peel.
Whisk the flour with the remaining sugar, baking powder, baking soda, salt and poppy seeds in a large mixing bowl. In a small bowl, whisk together the egg, milk, lemon juice and butter. Milk may curdle when mixed with lemon juice, so don't be shocked or surprised. Immediately stir egg mixture into flour mixture just until combined.
Spoon into muffin cups. Sprinkle tops with lemon-sugar mixture.
Place the muffin tray in the centre of the oven and bake for 20-25 minutes, or until a toothpick inserted in the center comes out clean.