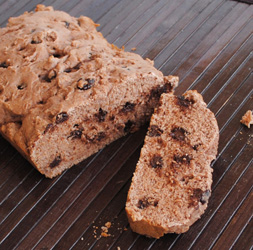 Did you know you can make bread with ice cream? It's true! This recipe uses just two ingredients: ice cream and flour. You can use a variety of ice cream flavours to experiment with the results.
Ice Cream Bread Recipe
Ingredients:
2 cups ice cream, softened (I used a mix of homemade chocolate and mint chocolate chip)
1 1/2 cups self-raising flour (to make self-raising flour, add 1 1/2 tsp baking powder and 1/2 tsp salt for every cup to flour)
Directions:
Preheat oven to 350F. Grease and flour a loaf pan.
In a medium bowl, mix ice cream and flour together until well combined. Pour into the loaf pan and bake for 35-45 minutes. The bread should be golden brown, and a toothpick inserted in the middle should come out clean.