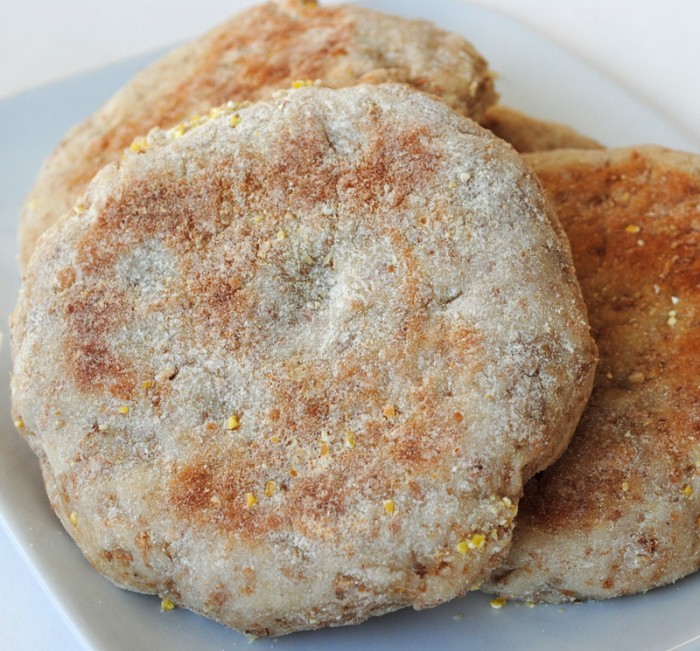 English muffins make a great breakfast when toasted and topped with peanut butter or honey. They're also fantastic for sandwiches! This recipe takes a bit of patience, so be sure to read it thoroughly before you get started. It makes about 1 ½ dozen muffins.
Ingredients
1 cup milk
2 tablespoons white sugar
1 package active dry yeast
1 cup warm water
1/4 cup melted butter
6 cups all-purpose flour
1 teaspoon salt
Directions
In a small saucepan, bring the milk to a simmer, then remove from heat. Add the sugar, and stir until dissolved. Let the mixture cool down a bit.
In a small bowl, dissolve the yeast in the warm water, and let stand until foamy (about 5-10 minutes).
Once the milk is lukewarm and the yeast is foamy, combine both in a large bowl. Add the melted butter, and 3 cups of flour. Mix until smooth, then add the salt and the remaining flour, stirring to make a dough. Knead a few times until the mixture takes shape.
Place the dough ball in a greased bowl, and cover and let rise in a warm place.
When dough has doubled in size place it on a lightly floured counter and punch the dough down. Roll it out to about ½ inch thick, and cut dough with a round biscuit cutter. Place the dough rounds on a baking sheet and cover with a cloth to rise for half an hour.
Once the rounds have risen, heat a greased griddle on medium. Cook each muffin about 10 minutes on each side, keeping the cooked ones in a warm oven until serving.
<>