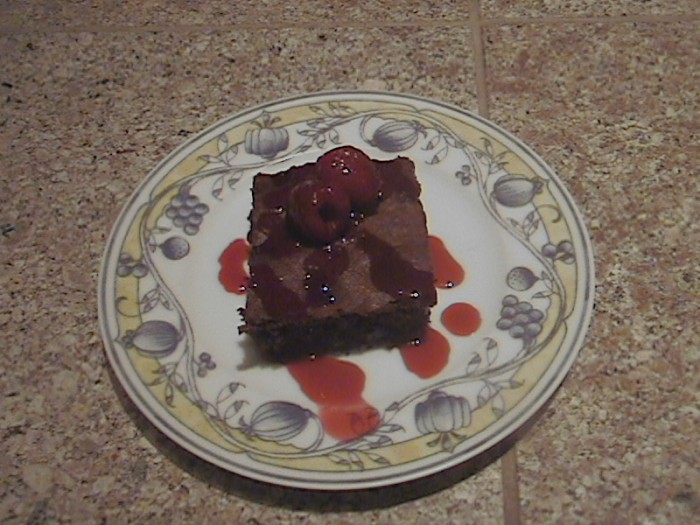 This is one of those desserts that you need to have in your arsenal. It is a simple recipe, but the raspberry sauce lends it sophistication worthy of the fanciest dinner party. I like to use fresh raspberries for the reduction sauce when they are in-season. I live in California, and can get them fresh, year round. I have used frozen and they work out fine as well.
Raspberry Reduction Sauce
4 1/4 cups fresh raspberry whole
1/4 cup granulated sugar
3 cups water
Heat the water on high, just until ready to boil. Add sugar and dissolve. Now add 3 cups of the berries, reserving 1 ¼ cups for garnish later, and reduce heat to medium. Heat until sauce has thickened to a syrupy consistency. Set aside, and once cooled, add the 1¼ cup of remaining raspberries.
Brownies
3/4 cup baking cocoa
1/2 teaspoon baking soda
2/3 cup butter, melted, divided
1/2 cup boiling water
2 cups sugar
2 eggs
1-1/3 cups all-purpose flour
1 teaspoon vanilla extract
1/4 teaspoon salt
2 cups (12 ounces) semisweet chocolate chunks
In a large bowl, combine cocoa and baking soda; blend 1/3 cup melted butter. Add boiling water; stir until well blended. Stir in sugar, eggs and remaining butter. Add flour, vanilla salt. Stir in chocolate chunks. Pour into a greased 13-in. x 9-in. baking pan. Bake at 350° for 35-40 minutes or until brownies begin to pull away from sides of pan. Cool.
Serving
Serve 1 or two brownies per person. Drizzle raspberry sauce over the brownie and garnish each with two of the whole berries.
<>