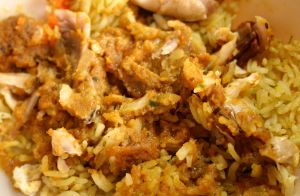 Curry Chicken
When you're in the mood for a taste of something different this is a choice. Stop cooking that same old boring chicken. This recipe is more asian than indian curry, but I am sure your family will love it! For a more Indian taste add a teaspoon of cayanne pepper, and sub 1 can coconut milk with 1 cup of chicken stock. You can add carrots and peas if you like as well, this is a very flexible recipe.
Ingredients
1/2 cup all purpose flour
1 tbl. spoon dry curry powder
1/2 tsp. ground turmeric
2 tsp. salt
1/2 tsp. pepper
4 lbs chicken, cut up
2 tbl. spoons vegetable oil
1 medium chopped onion
2 cloves minced garlic
2 stalks diced celery
1 medium chopped green pepper
2 cups chicken stock
2 cups tomato sauce
1 bay leaf
Preparation
In a large bowl combine flour, curry, turmeric, salt and pepper, set aside. wash chicken and pat dry. Coat with flour mixture and set aside. In a large pot heat oil and saute onion, garlic, celery and green pepper until tender. remove vegetables and set aside. Add a bit more oil to the pot and brown chicken on all sides. Return vegetables, add chicken stock tomato sauce and bay leaf. Bring to boil stirring gently. Reduce heat and simmer one hour, stirring occasionally. 
Serving
Remove bay leaf before serving. I like to serve this on a bed of basmati rice and steamed vegetables. Alternatively you could serve it with Indian naan bread.