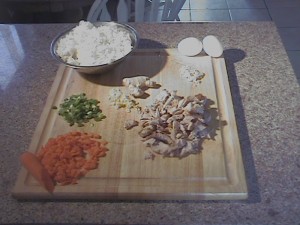 <>
Fried rice is a quick easy side dish. It's even hearty enough to be a main dish. One of the things I love most about making this fried rice is that you can use virtually any vegetables or meat that you happen to have left over from another meal. It also makes great use of left over plain white rice that gets dried up in the fridge. The sesame oil in this recipe can be substituted with vegetable or corn oil. I happen to really like the flavor of the sesame oil, and it gives a very authentic taste to the dish. I am also using fresh ginger here, if you don't keep that in the house it can be omitted. I would not use ground dry ginger as a substitute.
Ingredients
2 tbl. spoons sesame oil (vegetable oil is fine)
2 minced garlic cloves
1 tbl. spoon fresh ginger
1/2 cup diced carrot
1/2 cup shredded cabbage
1/4 cup green onion (reserve a bit for garnish)
2 cups cooked pork (chicken, beef, or shrimp all work as well)
4 cups cooked white rice (better if it has been in the fridge over-night)
2 eggs slightly beaten
2 tbl. spoons soy sauce
1 pinch red pepper flakes
Start by adding one tbl. spoon of the oil to a wok or large frying pan on high. Let the oil get really hot. Add carrots, cook for about two minutes. Now for the garlic, green onions, ginger, cabbage, and or any other vegetable you like. Cook on high for an additional 2 minutes. Remove the veggies. Add the pork, or other cooked meat and heat for 2-3 minutes. Remove meat, add remaining oil then add the cooked rice. Heat for 3-4 minutes. Return the meat veggies to pan with the rice, mix well, and add soy sauce and combine until uniform in color. Now you can drizzle the eggs over the rice in a circular motion and let it cook for 1-2 minutes before stirring, this will give you the strings of egg. I like to add a bit of rep pepper flakes at the end as well, but that is optional. Garnish with the green onion that you set aside for garnish. A couple 4-5″ pieces of green onion make a nice finishing touch as well.
Great to serve along side your favorite pot stickers, or other chinese entre. Or fine, all by its self as a main dish. I hope you enjoy making this versitile rice dish!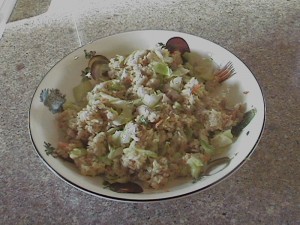 <>