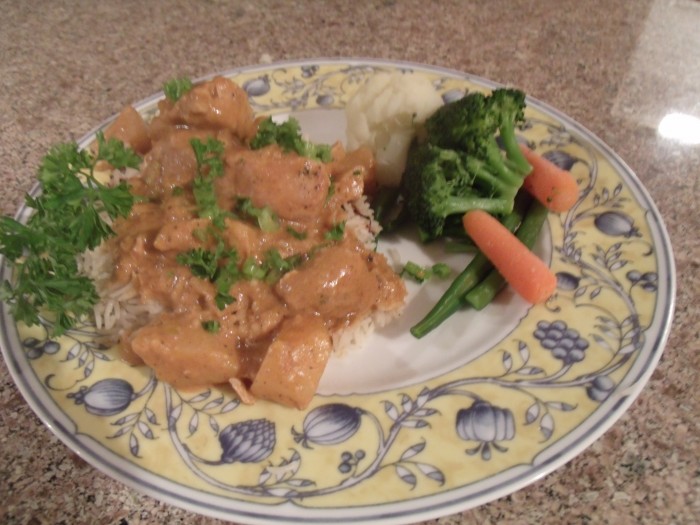 We love this authentic traditional Indian dish at my house. This dish has so many interesting flavors and a creamy base that brings it all together.
Ingredients:
Marinating the Chicken
3-4 boneless chicken breasts, skins removed and cut into bite-sized pieces
½ cup thick natural yogurt
1 tablespoon fresh ginger, minced
2 teaspoons ground cumin
1 teaspoon ground cinnamon
2 teaspoon chili powder
2 teaspoon fresh cracked pepper
Salt
Creamy Tomato Curry
1 15oz can chopped roasted tomatoes
1 cup heavy cream
2 garlic cloves, minced
2 red chilies, finely chopped
2 teaspoons ground cumin
2 teaspoons paprika powder
1 tablespoon ghee or clarified butter
Handful of coriander leaves/cilantro, chopped
Salt and pepper to taste
Method
Mix all of the ingredients for the marinade in a large bowl. Mix until the chicken is nicely coated. Cover and refrigerate overnight.
In a large sauté pan, heat ¼ cup vegetable oil on high for three to 5 minutes. Add Chicken to oil and cook until browned on all sides. Remove and set aside. In the same pan reduce to medium heat, add ghee/ clarified butter. Add the garlic and chopped chilies until fragrant. Sprinkle the ground cumin, paprika powder and a pinch of salt. Sauté for a further minute or two until the mixture turns into a paste-like texture. Add the chicken, and tomatoes to the sauce and simmer for 15 minutes or until chicken is cooked through. Finish with the cream, stir to incorporate.
Serving
I like to serve this over basmati rice. It is also great with traditional naan bread. I am sure you'll love this dish.
<>