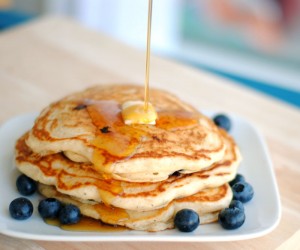 Whether you're preparing a brunch or having breakfast for dinner, pancakes always hit the spot. This blueberry pancake recipe makes fluffy buttermilk pancakes every time!
Ingredients
2 cups all purpose flour
2 tablespoons sugar
2 teaspoons baking powder
1 teaspoon baking soda
dash of salt
2 cups buttermilk (alternately, 2 cups of milk with 1 tbsp lemon juice mixed in)
1 egg
1/4 cup canola oil
1 1/2 cup blueberries
Preparation
In a large bowl, mix together the flour, sugar, baking powder, baking soda, and salt.
In a separate medium bowl, combine the eggs, buttermilk, and oil, and whisk until blended.
Add the milk mixture to the flour mixture, and stir until just combined. The batter will be lumpy. Gently stir in the blueberries.
Heat a lightly oiled skillet or griddle over medium heat. When drops of water bounce on the surface before evaporating, it's ready to cook pancakes.
Scoop 1/4 cup of batter and pour it into the centre of the pan. When bubbles begin to form in the center, gently flip the pancake and cook until golden brown.
If you aren't going to eat the pancakes right away, heat the oven to 200F and keep the cooked pancakes on a greased wire rack in the center of the oven until it's time to serve them.
<>