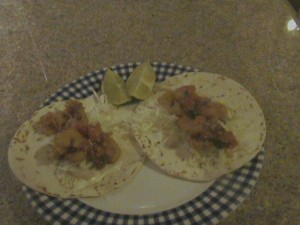 This is a favorite meal at my house. These delicious tacos are a real crowd favorite. This recipe is enough for eight very filling tacos. I find that for most folks two is a good serving. The salsa can be store bought, but I prefer a quick homemade fresh pico de gallo, it makes a big difference.
Beer Batter
1 12 oz. can or bottle of your favorite beer.
1 cup all purpose flour
1 tsp. salt
1 tsp. coarse black pepper
Wisk these ingredients together just until smooth, do not over mix. Set aside.
Taco Ingredients
2 lbs. peeled and deveined 16-20 ct. shrimp
8 flour tortillas (fajita size)
2 cup finely shredded cabbage
1 cup pico de gallo salsa, or your favorite salsa
1/2 cup mayonnaise
2 limes quartered
Preparation
Make sure you shrimp are peeled and deveined. Heat oil in a high sided frying pan until the handle end of a wooden spoon bubbles when inserted. Coat the shrimp lightly with the batter and fry until golden brown. These will fry up pretty quickly, maybe two-three minutes per side. Set the fried shrimp aside.
Serving
I like to serve these by warming the flour tortillas. Spread each tortilla with a bit of mayonnaise, place four to five shrimp on tortilla. Top with a little of the cabbage and salsa. and serve with the quartered lime for garnish and squeezing onto tacos.
I think you'll find these to be some of the best tacos you've ever had!