This is a really quick easy apple cobbler type pastry that is great for breakfast. It is even a great desert for when you feel like something "home-baked", but don't want a big hassle. Today I am making it into a loaf. I have made it many times with canned bisquits. If you go that route, don't try to roll the pre-formed bisquits flat. Just lay them out, cut or lift the tops up, place several slices of the apple mixture and bake.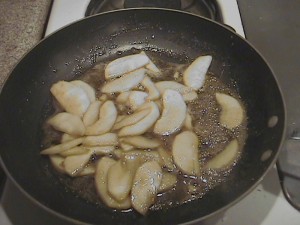 Ingredients
1 large granny smith apple, two if they are small. Peel, core, and slice
1/3 cup brown sugar
2 tbl. spoons butter
1/4 tsp. cinnamon
pinch of salt
9 bisquits worth of your favorite bisquit mix
Heat the butter over medium until melted. Add brown sugar, cinnamon, salt and combine well. Add apples and cook for 5-7 minutes or until apples are soft. Preheat the oven to 400 degrees. Prepare your bisquit mix as directed. Flour a large cutting board, and roll out to about 8″x8″ square. Place the apples, leaving as much of the sauce in the pan as you can, in the center of the rolled bisquit mix and fold the sides toward each other. Just pinch the folded parts together. No need to try to seal it completely, this roll has a nice rustic home made look about it. Slide it carefully onto a greased baking sheet. Now bush the top with the remaining butter brown sugar mixture still in the pan. Bake at 400degrees for 25-30 minutes or until golden brown.
I like to serve this with a dallop of sour cream.
I hope you'll try this recipe. It's a great one to have in your hip pocket.