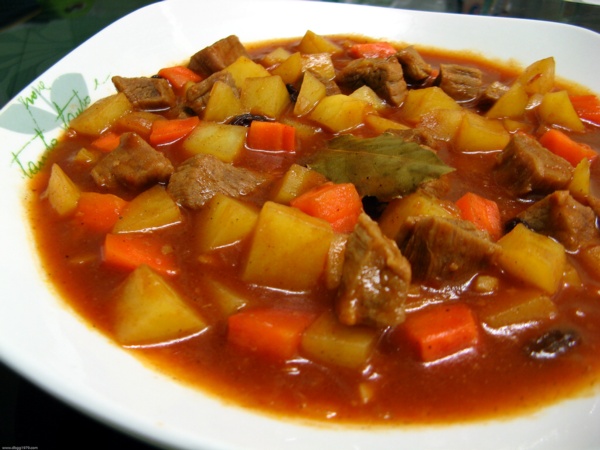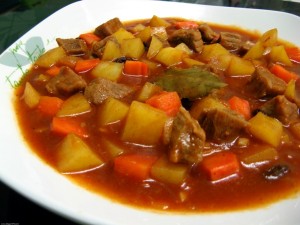 Warm up the whole family with this savory beef stew. Big pieces of meat, potatoes, vegetables, and spices combine for a hearty dish that is big on flavor and nutritious, too. Stew beef is a very economical cut from the market but is great on taste. Simmering the stew for an hour and half makes the beef very tender. Serve with a crispy salad and good bread and you have a complete meal!
Ingredients
2 pounds stew beef (or beef chuck), cut into 1-inch cubes
2 tablespoons vegetable oil
2 cups beef broth (or stock)
1 tablespoon Worcestershire sauce
1 clove garlic, peeled
1 or 2 bay leaves
1 medium onion, sliced
1 teaspoon salt
1 teaspoon sugar
1/2 teaspoon pepper
1/2 teaspoon paprika
Pinch of ground allspice or ground cloves
2 russet potatoes, peeled and cut into 1-inch cubes
3 large carrots, sliced
3 ribs celery, chopped
2 tablespoons cornstarch
Method
In a medium pot, brown the meat in hot oil. Add the beef broth, Worcestershire sauce, garlic, bay leaves, onion, salt, sugar, pepper, paprika, and allspice. Cover and simmer 1 1/2 hours.
Remove the bay leaves and garlic clove. Add the potatoes, carrots and celery. Cover and cook for 30 minutes longer. The potatoes and carrots should be tender but not mushy.
In a small bowl, use a fork to whisk a little water with the cornstarch until smooth. Mix in a little hot broth, then return the mixture to the pot. Stir and cook for another 5 minutes or until the stew begins to thicken.
Serve in individual bowls with warm bread.
<>