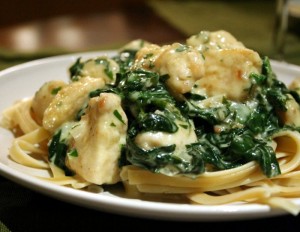 <>
Chicken Florentine is a wonderful pasta dish – crispy, moist chicken with sauteed spinach and pasta tossed in a creamy sauce. There are a few elements to putting this dish together but it is actually quite simple to make. It looks very elegant, however, and is definitely delicious. Serve this pasta dish with a loaf of warm French bread and a salad and you have a complete dinner.
Serves 4
Ingredients
2 boneless, skinless chicken breasts
salt and pepper, to taste
1/2 cup all-purpose flour
4 tablespoons unsalted butter
1 large shallot, sliced thin
2 cloves of garlic, minced
1 1/2 cups white wine
1 cup heavy cream
1/4 cup parsley, chopped
1 10-ounce package of frozen chopped spinach (thawed and drained) or 16 ounce bag of fresh baby spinach
Method
Season the chicken with the salt and pepper. Place the flour in a shallow dish and dredge the chicken in the flour, shaking off any excess. Put 2 tablespoons of the butter in a large skillet over medium-low heat. Once the butter has melted, add the chicken to the skillet.
Fry the chicken until cooked through, about 5-7 minutes for each side. When done, transfer the chicken to a plate and cover loosely with foil to keep it warm. Keep the skillet handy.
In another skillet over medium heat, melt 1 tablespoon of butter. Add the spinach. Let heat through for a couple minutes, stirring occasionally. If using fresh spinach, it will wilt. Season with salt and pepper.
Heat up the skillet again that you used for the chicken and add a tablespoon of butter or olive oil. After the butter has melted, add the shallots and garlic. Cook for about three minutes, or until the shallots start to soften and become translucent. Add the white wine to deglaze the pan, scraping the bottom with a wooden spoon or spatula to get up all the bits. Turn the heat up slightly to a simmer and let cook until you reduce the wine by about half. Add the heavy cream and whisk everything together. Cook for 3 or 4 minutes or until the cream has thickened. Stir in the parsley and taste. Add more salt and pepper, if necessary.
Cut the chicken into 1-inch cubes and return the chicken to the sauce skillet, turning the pieces so they are completely coated. Let the chicken heat thoroughly.
Serve the sauced chicken over pasta (linguine or penne) tossed with the spinach. Add warm crusty bread and a salad, if you like.