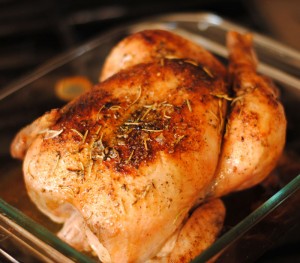 <>
There are a few recipes that are great to have in your cooking arsenal, and a basic roast chicken is one of them. Great for dinner parties or weekend family meals, a roast chicken is a staple that always impresses.
Ingredients
1 whole chicken, giblets removed
1 medium onion, quartered
4-5 cloves garlic
1/4 cup olive oil
Sea salt and freshly ground pepper
Fresh or dried thyme
Fresh or dried rosemary
Preparation
The first step is to preheat your oven to 425F with the racks in the center. To ensure an even temperature, it's preferable to do this about 20 minutes before you put the chicken in the oven.
Rinse your chicken, and place it in a medium roasting pan breast side up. Drizzle the chicken with olive oil and season with salt and pepper, rubbing it in for even coverage. Place a few of the garlic cloves and half of the chopped onion in the chicken cavity, and the rest in the dish. Sprinkle the herbs evenly over the chicken.
Roasting
When you're ready to put the chicken in the oven, turn the temperature down to 400F. Place the chicken in the pan on the center rack, and cook for about 1 hour and 15 minutes.
Check the chicken halfway through and baste it with the juice in the pan. If it is browning to quickly, place a foil tent over it.
Once the chicken is almost done, check the temperature in the breast and thigh. It should read 165F to be safe for consumption. When the internal temperature is safe, let the chicken rest for 15 minutes out of the oven.
Serving
Once the chicken has rested, remove the wings for easier carving. Then remove the thighs and legs, and slice off the breast meat with a knife angled away from the breastbone. Flip over the chicken and remove the meat on the back, as well. You can freeze the bones to make soup stock later.
Although initially intimidating, roasting chicken is very simple and straightforward. It makes a wonderful main dish, and you'll be surprised with how many different sides you can serve it with, from roasted vegetables, to cous cous, to pasta.